Perfect for public showers, gym, steam rooms, dorms, camps, pools, locker rooms or anywhere germs lurk.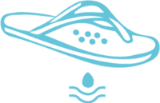 Unique drainage hole designs, slip resistant soles and antimicrobials help protect feet against mold, fungus and bacteria on floors.
The comfort, style and durability will make you want to wear them from the shower to the streets.
I really like these shower shoes. The non skid feature was an unexpected bonus.

Gina K
Five Stars! Fit perfectly and dry quickly after taking a shower at the gym.

Delbiadon
Love them. They are very comfortable. I don't slip in the shower and the holes allow the water to drain when getting out of the shower

Annie in Wonderland
I love them! My daughter uses them daily at college and will be ordering more for my niece when she leaves for school.

Clara Agostoon