The Ultimate Gym Bag Must-Have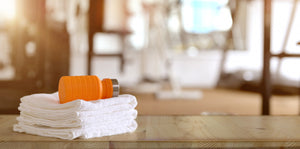 Have you heard!? Gyms and studio classes are slowly opening up throughout the country. As gym-goers across the nation begin to celebrate, we want to give you a friendly reminder to take proper precautions during this pandemic. With each state releasing its own requirements of protocol, always remember it never hurts to be extra careful. It will probably take some time until everything starts to really feel like it's all back to normal. 
When packing your gym bag, some essential items tend to be a lock for the locker room: like gym clothes, a water bottle, and toiletries. But one thing to never forget is shower shoes! Shower shoes are always key to bring along no matter if you go to a gym, studio, or even an outdoor class. After a great work out, many tend to utilize the shower rooms. Think about the amount of sweat and people coming and going. No matter the cleaning protocols, locker rooms are pretty much germ factories. The best way to protect you and your toes is with a pair of Showaflops!
Showaflops set themselves apart from the competition because of their key feature, drainage holes. The soles of these shower flip-flops feature several rows of drainage to protect your feet from slipping and sliding. Our flops contain antimicrobials, which help prevent odor, as well as the transfer and growth of bacteria and fungus on the soles! Also the thick platforms keep you elevated off the shower floor, giving you and the germs of the shower plenty of distance and keep your toes safe. An added bonus is the resistant grips! You'll never have to worry about any accidents occurring in or out of the shower; not to mention Showaflops have a slick and clean design for both men and women; keeping it trendy and stylish for everyone!
Here are some of our favorite pairs of Showaflops: 
Our Showaflops are stylish and functional, so don't forget to shop for your Showaflops favorite and stay safe, healthy and happy at the gym. Tag us and share your favorite pair on Instagram.