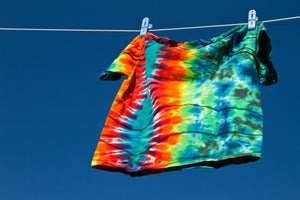 Thanks to the influence of TikTok and Instagram, tie-dye is on a meteoric rise. Designer tie-dye outfits tend to retail at steep prices and due to a widespread loss in financial security, people are less willing to shell out big bucks for expensive clothes. With more time on their hands than ever before, people have been seeking comfort in the form of DIY projects. From quarantine baking to clothing experiments, people are trying new things and honing their special skills.
We are witnessing the return of family time; parents now have the ability to build their own work hours and spend quality time with their kids. This is leading to an increase in arts and crafts projects. As a result, bleach and tie-dye kits are selling out across the internet. Turning old outfits into rainbow concoctions is the new way to spark joy.
Celebrities, bloggers, and influencers have been leading the tie-dye charge. There have been countless tutorials across YouTube, Instagram, and TikTok. We are being introduced to a new normal of trendy comfort with a focus on up-cycling our loungewear. This tie dye trend has served as both an anchor to reality and a sign of the times. It provides the ability to participate in a widespread movement and exercise a semblance of control while existing in an out-of-control situation.
The nature of virtual get togethers makes it hard to glimpse footwear but don't let that stop you from indulging in fun pairings to match your cool DIY clothing projects. These are some of our top picks:
If you decide to pair your colorful clothing experiments with any of our shoe recommendations, please tag us! We are very excited to see your fashion combinations.